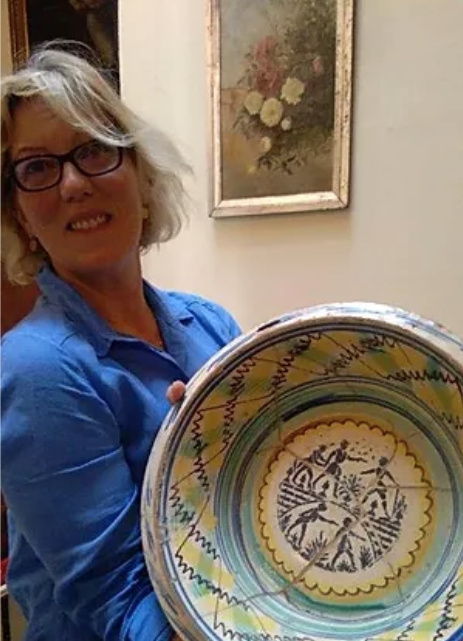 With 25 years' experience working in the arts world (including in part as a Deputy Director of Sotheby's, Edinburgh office, in art galleries and a leading craft organisation), I have a broad generalist's knowledge and have access to extensive contacts and expertise for help with more specialist requirements.
For a few years I operated as a commercial dealer selling ceramics, glass, furniture and decorative items sourced from a wide variety of auction houses and dealers countrywide.
The business has evolved as I have been increasingly approached by clients seeking more personalised help. I provide an impartial, discreet, bespoke and sensitive service.
In tandem with running my business I am studying for an MA in Antiques at the University of Central Lancashire. This is a part-time course which allows me the time to continue to run my business.
Case Study
I was approached by a family wishing to move from a large country house, into a much smaller house. They knew which items they wanted to keep or give to family but needed help with what their sale options were, and which items warranted restoration or conservation. I sourced expert opinions, researched items and values and arranged a formal valuation of the contents. I also found and researched the less obviously saleable items around the house and came up with storage and removal options. Together we discussed each object or group of objects and agreed a plan. I then dealt with every aspect of their sale or disposal, keeping the client informed of progress at every stage and always focussing on maximising the value for whatever they did not want to keep. If items were of minimal value, I ensured they were recycled or donated to charity. This huge project was an enjoyable and successful experience.
Emily is an inspiration
Sales Guidance, Valuation, Auction Advice, Clear Out Clutter
Emily is an inspiration! For over a year and a half Emily helped us to move out of a large family home after three generations and into a farmhouse on the estate.
A wonderful job
House Clearance, Auction Advice
Emily did a wonderful job when we downsized, helping us to decide what to sell and how to get the best price. She was invaluable.
we would thoroughly recommend her
House Clearance, Sales Guidance
Emily assisted my elderly parents with clearing their attic and did so with great sensitivity and kindness. Her expertise identified a number of items they were unaware held any value, and which later realised pleasing sums at a sale room. Her professionalism and discretion are absolute and we would thoroughly recommend her services, however large or small the job.
Emily is a marvel
House Move
Emily is a marvel and her help invaluable. She is knowledgeable and imaginative - a great pleasure to work with! Thank you.